STUDS/PUPPIES
PUPPY'S AT EMEM ARE SOMETIMES AVAILABLE
Puppies Due November 2019
Ridanflight Rock on Tommy & our Ch Emem Gloria Sunshine
Boy's at Stud
Ch Deepdax Overdraft Too Far Emem (Riley)
PRA Clear / Lafora's Clear
* * * * * *
Waldmeister Rova to You Emem (Rova)
PRA Clear / Lafora's Clear
* * * * * *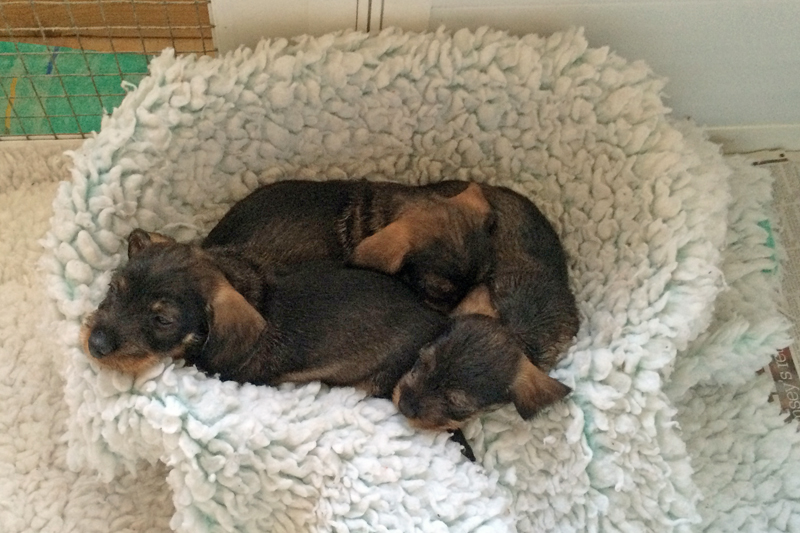 PLEASE CONTACT US
The prospect of a new puppy joining the family is very exciting for everyone. If you are considering a miniature wire haired dachshund as a new family member, there are some things to be aware of that will help to ensure you end up with a healthy, happy pet that will give you years of fun and companionship.
Find a Kennel Club Assured Breeder
Visit if possible before puppies are born so that you can meet mum, find out about dad and ensure the type and temperament meet the breed standard requirements (bold and outgoing)
Ask if the requisite tests have been carried out on both the sire and the dam (tests outlined below
Ask about in-breeding. You do not want a puppy that has been too closely in-bred as this is not healthy. Looking at the pedigree, you do not want to see the same names repeated many times.
Remember that pretty puppies with lots of coat will need more coat maintenance as they mature. A wire coat that is flat and tight will produce a more easily manageable adult coat.
Testing Information
Miniature Wire Haired Dachshunds are generally long lived and healthy. Providing they have the correct leg length and are not too long in back and not kept too fat, they will be up for as much exercise as you want to give them. Free running on soft ground for puppies, is better than lead walking on hard surfaces. Dachshunds can occasionally be prone to disc problems and being sensible about weight and not allowing them to run up and down stairs continually, will help to keep your dachshund agile and healthy.
Tests available are those for Progressive Retinal Atrophy (an eye condition) and a new test now to identify carriers, affected and clears for Lafora Disease (a late onset epilepsy). You should ask to see certificates that confirm the parents of your puppy are not affected by these conditions. If you would like further help or advice please email us and we will be pleased to have a chat.
There is more information on the current tests at The Wire Haired Dachshund Club website. or from the Dachshund Health website